Red sea coast cities have always been the center of attention for Scuba divers and beach vacation lovers all around the world. On top of them is Sharm El Sheikh city which is located in the Eastern North of Egypt  with very low population and very wonderful marine life that. Sharm El Sheikh city was nothing but small fishing town until 1968 when the Egyptian government  realized how the this small own rich of fantastic sandy beach, great weather and rare marine life. Now the city became one the most popular resorts in the entire world. Travel to Egypt company powered by Fayed travel arrange Sharm El Sheikh day tours to shipwrecks sites, national parks, desert landscape, dolphin shows and much places beside all the crazy funny things you get to do from diving activities and safari camping. You'll also get to discover the Bedouin life and experience it. If you are passing by Sharm any time soon, here are some popular places and exciting activities you can do in Sharm El sheikh.
Sharm El Sheikh activities
Sharm El Sheikh is the center of tourism action in Sinai Peninsula and it has the world top diving sites. Specially  the underwater wonders of Ras Mohammed national park that took Sharm city to whole different level. The city has diving and shipwreck sites that attract both advanced and recreational divers from around the world to discover the un parallel marine life deep down the red sea. Also you will find the best resorts ever in shark's bay and Namaa bay for those who just want to chill out under the sun for perfect tan and have some snorkeling activities, relax, take a walk in the city and checking the finest cafes and restaurants. There is a whole different side of the city as well reflected in the mountain chains, varied terrain, the mount Sinia and the red colored canyon where you can hike up the summits, take a quad bike through the dunes and hills, or having safari camp by the Bedouin tents for adventurous experience. You will never get bored because there are millions of Sharm El Sheikh activities you can do, plan with us your trip or you can check Egypt budget tours that travel to Egypt has arranged.  
Ras Mohammed national park
Ras Mohamed National park is unexpected beauty 480 square km desert full of variety of Flora, Fauna life and diving sites. The place will capture your senses and take your breath from the moment you enter, with its white sand and clear water that holding deep down magnificent marine life with more than 1000 fish species and turtles crustaceans and 150 different .
Naama bay
The bay is all about white beaches and palm trees which represents the center of all action in Sharm. You can get laid under the sun for tan and enjoy the weather. If you get bored you can get up for a tour in the shops, stores, restaurants, cafes. Naama bay is full of luxury resorts leading the bay to be Egypt's top choice for beach vacations.
Shark's bay
North of Namaa bay, you will find Shark's bay which has five stars luxury resorts and soho square center that includes Sharm's top restaurants, cafes and some shops. So if you are looking for relaxation and quite beach vacation, this is where you should go. 
Sharm El Sheikh city diving sites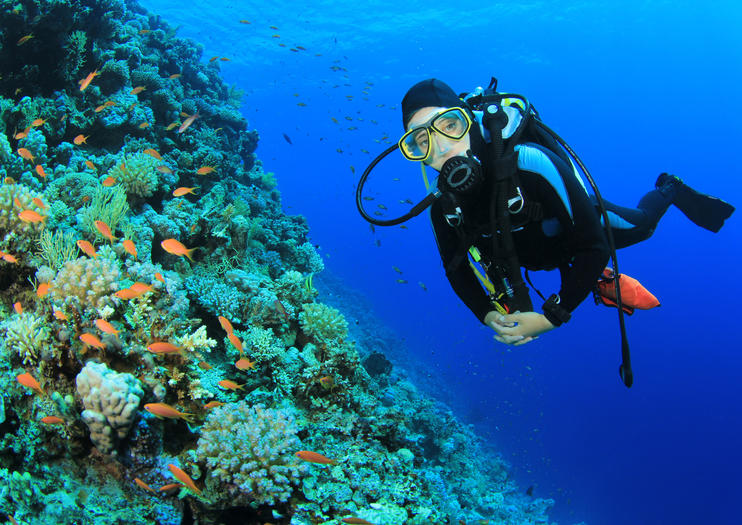 Sharm El Sheikh city is all about diving sites and it is ranked as top three worldwide most visited diving sites, so if you are really into water sports and big fan of diving you won't miss the Thistlegorm diving site that very advanced divers all around the world would travel to Sharm specially to dive in and see the British Cargo shipwreck which sunk during world war II. This shipwreck that sunk in the straits of Gubal, west of Sinai Peninsula has now fishes and coral reefs between the Cargo rooms which create a wonderful deep down the sea site. One of Sharm El sheikh's top diving sites is Thomas reef situated in Tiran straits that offers incredible underwater views of exotic coral reef gardens and colorful fishes species. In addition if you want to spot coral pinnacles, clown fishes and butterfly fishes, all you have to do is visiting the gardens dive site which is located north of Namaa bay and divided into three levels known as: near garden, middle garden and far garden. The near and the middle sites are perfect for only swimming and snorkeling, but the far garden level is for advanced diving, and don't worry because you'll be able to capture all the different kinds of reefs and fishes in the three levels. Moreover, Sharm El Sheikh city can't get enough of diving sites, so also you will find popular diving sites like Dunraven dive site which was named after the drowned ship of Dunraven where you can spot cardinal fish, goat fish, moray eels and scorpion fishes living within the ship hull creating such a beautiful harmony view.
Saint Catherine monastery
Sharm al Shiekh city is more than beach and resorts. You can also find historical religious sites, among them is St. Catherine monastery which is located in Sinai Peninsula by mount Sinai, the monastery is considered Orthodox and UNESCO world heritage site. Like any other archaeological historical site in Egypt, the monastery has a valuable story and facts behind it. It was believed that Catherine of Alexandria fought for Christianity and she was beheaded by some fanatics. The hermitage holding some rare manuscript and religious icons.
The Mount Sinai
The mount of Sinai is a holy site that was mentioned in the holy bible and the holy Qur'an. Known in Arabic as Gabal Musa, it's a good idea to hike up to the summit of the mountain where prophet Mouses received the 10 Commandments. The hiking of the mountain is considered as pilgrimage to many people, and usually followed by a visit to St. Cathrine monastery. There are two paths known as camel trails and steps of Repentance which is staircases that was carved out of the stones by one of the monastery's priests. Some travelers are traveling and overnight on the mountain just to see the sunrise from the top of.
The old market
Old Sharm is represented in the old market where the center of all bustle and crowds. The market is vibrant, beating with life, colors and extremely popular, full of shop keepers sailing herbs, spices, woodwork and traditional shisha. The market is full of joyful cafes and restaurants as well, so it's a good idea for making it a day trip with traditional local atmospheres. Also, you will find Al Sahaba new mosque with a façade that is inspired from the Mmluk, Fatimid architectural style. 
Nabq protectorate
 Visit the mother nature at its best in Nabq protectorate which is situated north of Sharm city and covers 600 square Km with Exotic ecology system. The protectorate has high mountain chain, mangrove forests by the coast which has very important rule for keeping the surrounding ecology conserved and good environment for a lot of fish, crustaceans and birds. The protectorate of Nabq is the largest nature reservation in Egypt that contains many different bird species, some of them are migratory and some stay there as their own natural home beside some animals like Herones and Gulls. Also you can do some snorkeling at Nabq or go on a safari trip by quad bike if you are done discovering the wild life of the protectorate.